Advisory board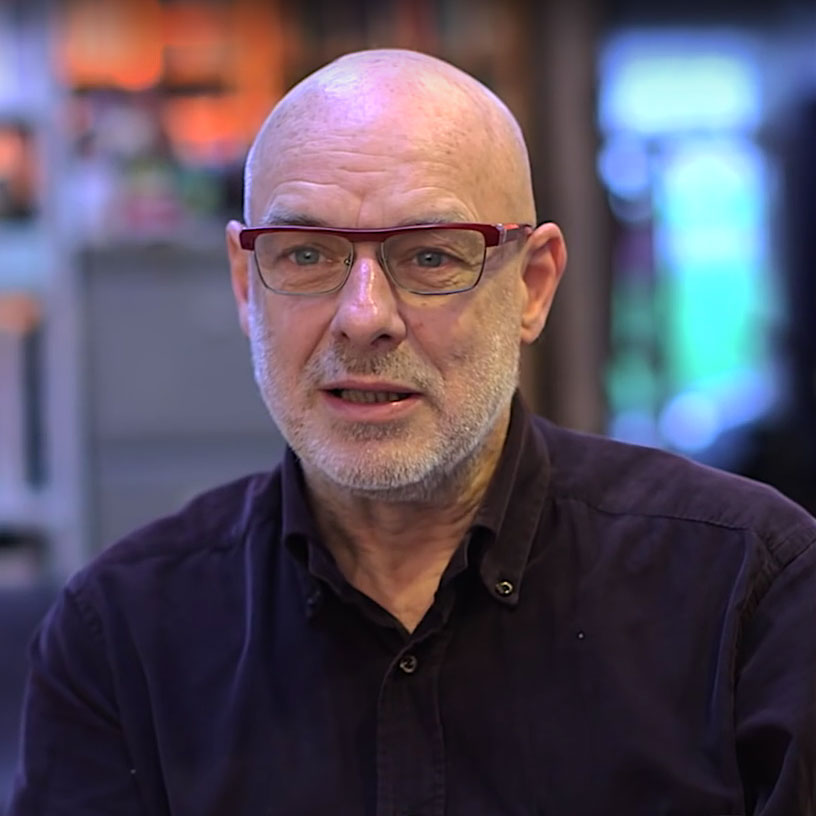 Brian Eno
Brian's view on postcapitalism. – A contribution to mέta.
Post capitalism won't suddenly appear with a big bang like the fall of the Berlin Wall. We'll all be living it before we realise it has happened. In fact we have been living it, or at least the beginning of it. It's already starting, beginning its slow and painful evolution with unexpected green shoots poking up above the surface. It isn't really on the media radar because the radar is pointed in the wrong direction – towards governments and corporations and pundits, the old seats of power. All of those have an interest in maintaining the old story, which is why, even if they've noticed it, they aren't going to tell us the new one.
Those green shoots? People forming co-ops and mutual aid groups, refuting the ideology of individualism by their pragmatic cooperativism. Young people refusing to work for employers who don't behave sustainably. More and more people signing more and more petitions demanding rights and accountability. A universal 'pro-inclusion' movement (unhelpfully labelled 'anti-discrimination'). The increasingly conspicuous obscenity of extreme inequality. Mark Carney telling the world's bankers that current forms of capitalism aren't fit for purpose in any foreseeable future. The collapse of libertarian utopianism in the face of reality. The old political divisions no longer representative of anything that matters, and at the same time unexpected coalitions between previously hostile sectors. The lessons of Covid: that science works where ideology flounders; that macho leaders and magical thinking can't fight viral reality; that the insane anti-mask individualism of the right is uncomfortably close to the victim-individualism of the left.
It's happening. We who for so long thought ourselves the exceptions, fighting a lonely battle, are now the rule. Nearly everybody is on our side, but we haven't yet realised that we are a side. When we do, that's when it really starts.
---
Brian Eno is an English musician, record producer, visual artist, and theorist best known for his pioneering work in ambient music and contributions to rock, pop and electronica. A self-described "non-musician", Eno has helped introduce unique conceptual approaches and recording techniques to contemporary music. He has been described as one of popular music's most influential and innovative figures. Born in Suffolk, Eno studied painting and experimental music at the art school of Ipswich Civic College in the mid1960s, and then at Winchester School of Art. He joined glam rock group Roxy Music as synthesizer player in 1971, recording two albums with the group but departing in 1973 amidst tensions with Roxy frontman Bryan Ferry. Eno went on to record a number of solo albums beginning with Here Come the Warm Jets (1974). In the mid-1970s, he began exploring a minimalist direction on releases such as Discreet Music (1975) and Ambient 1: Music for Airports (1978), coining the term "ambient music" with the latter. Alongside his solo work, Eno collaborated frequently with other musicians in the 1970s, including Robert Fripp, Harmonia, Cluster, Harold Budd, David Bowie, and David Byrne. He also established himself as a sought-after producer, working on albums by John Cale, Jon Hassell, Laraaji, Talking Heads, Ultravox, and Devo, as well as the no wave compilation No New York (1978). In subsequent decades, Eno continued to record solo albums and produce for other artists, most prominently U2 and Coldplay, alongside work with artists such as Daniel Lanois, Laurie Anderson, Grace Jones, Slowdive, Karl Hyde, James, Kevin Shields, and Damon Albarn. Dating back to his time as a student, Eno has also worked in other media, including sound installations, film, and writing. In the mid-1970s, he co-developed Oblique Strategies, a deck of cards featuring aphorisms intended to spur creative thinking. From the 1970s onwards, Eno's installations have included the sails of the Sydney Opera House in 2009 and the Lovell Telescope at Jodrell Bank in 2016. An advocate of a range of humanitarian causes, Eno writes on a variety of subjects and is a founding member of the Long Now Foundation. In 2019, Eno was inducted into the Rock and Roll Hall of Fame as a member of Roxy Music.