News
mέta… on the road!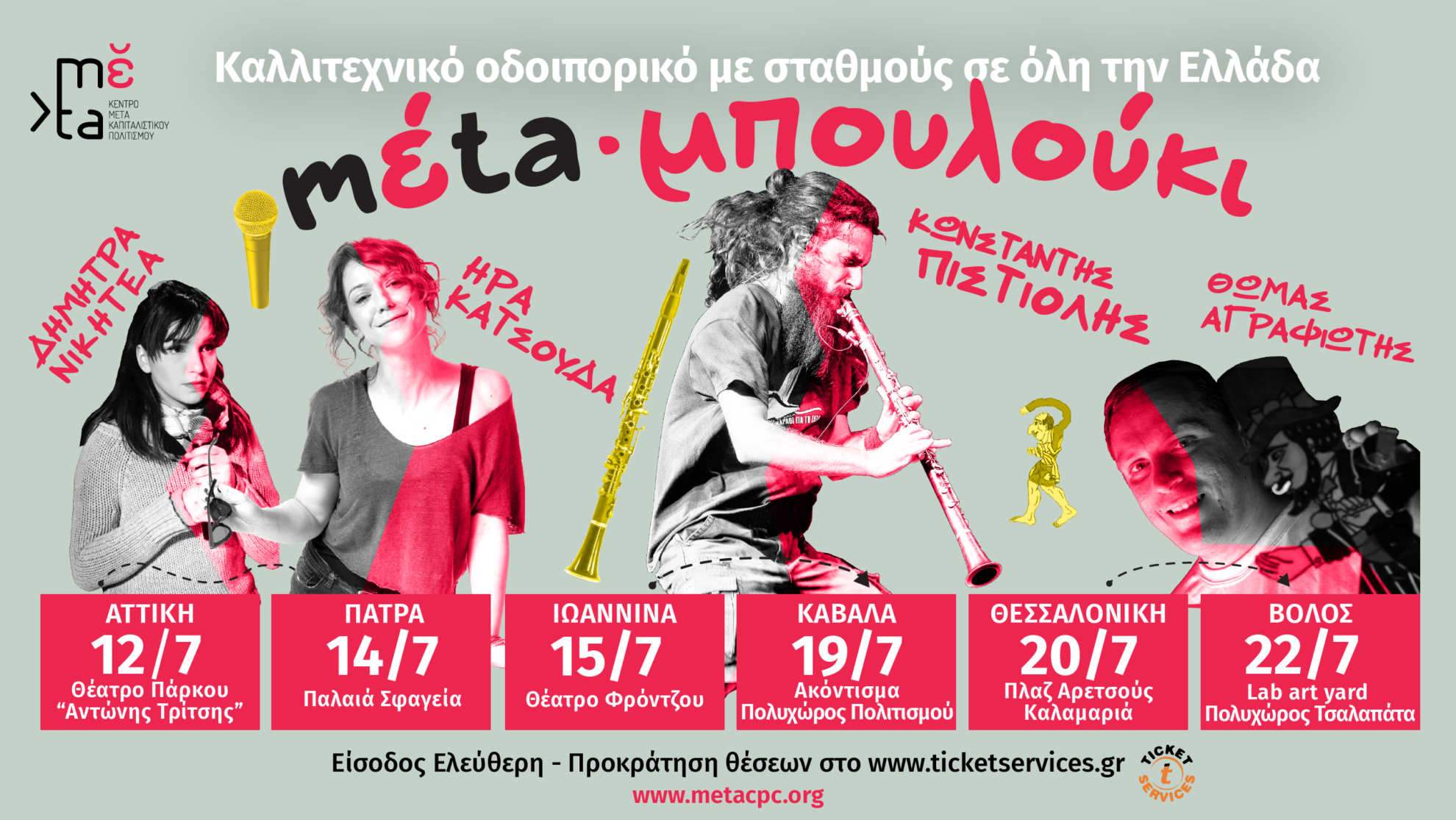 In such a bewildered summer but also amidst an urgent need for extroversion, after the experience of many months of confinement, meta … is on the road. Overcoming the organizational barriers that the pandemic raises, it invites us to meet again, to shake off discouragement, to speak in the language of our vision of another society, and to support the culture workers who have been tested as never before.
The Centre for Postcapitalist Civilisation (mέta), the newly established organization of academic and cultural activities associated with MeRA25, DiEM25 and the Progressive International, is carrying out an artistic journey with six stations throughout Greece in July.
We choose the "theatre on the road" (Boulouki)  putting in our luggage older and newer forms of art to be able to impact on the public.
because we believe in equal access to cultural life
because we are suspicious of the distinction between "high" and "popular" culture,
because we believe that culture should not become a monopoly of big institutions and sponsors, at a time when independent producers are threatened with destitution,
because we are committed to return the resources we have at our disposal to the society from which they come, as soon as possible,
because we believe that this "new normal", indifferent to our needs and dreams, must be combated not only with political means but also with fruitful interactions at a grassroots level.
In this opening up to different Greek cities we include the followIng artists:
Konstantis Pistiolis

plays string and percussion instruments, in a program with a variety of traditional sounds from Asia Minor to Epirus,
Ira Katsouda and

Dimitra Nikitea

in a stand up comedy show by two women use the therapeutic energy of humor as a critical confrontation with the environment,
Thomas Agrafiotis, who connects the popular comic work of the Epirus Shadow Theater of the 19th century "Karagiozis and the Ghost" connecting the contemporary political and social reality

Free admission everywhere.
We are looking forward to welcoming you!
July 12: Tritsi Park, Attica
July 14: Palaia Sfageia, Patras
July 15: Frontzos, Ioannina
July 19: Akontisma, Kavala
July 20: Aretsou Beach, Thessaloniki
July 22: Lab art yard, Volos
Reservations of free tickets at ticketservices:
https://www.ticketservices.gr/event/meta-mpoulouki/?lang=el
Skip to content