Initiatives that highlight mέta's agenda and engage the public either through established forms of public debate or artistic activities

"The Cars We Drove Into Capitalism" will be shown by mέta, in a special screening at Mikrokosmos cinema | on Monday, February 13th, 2023 | 20:00.
February 13
//
20:00
–
22:00
EET
Constantly pursuing the dialogue between art and political endeavour, mέta | the Centre for Postcapitalist Civilisation proceeds with a series of films regularly screened in the multi-space facility of Mikrokosmos, literally bringing in the centre of our attention a genre connected per se to this pursuit: cinema.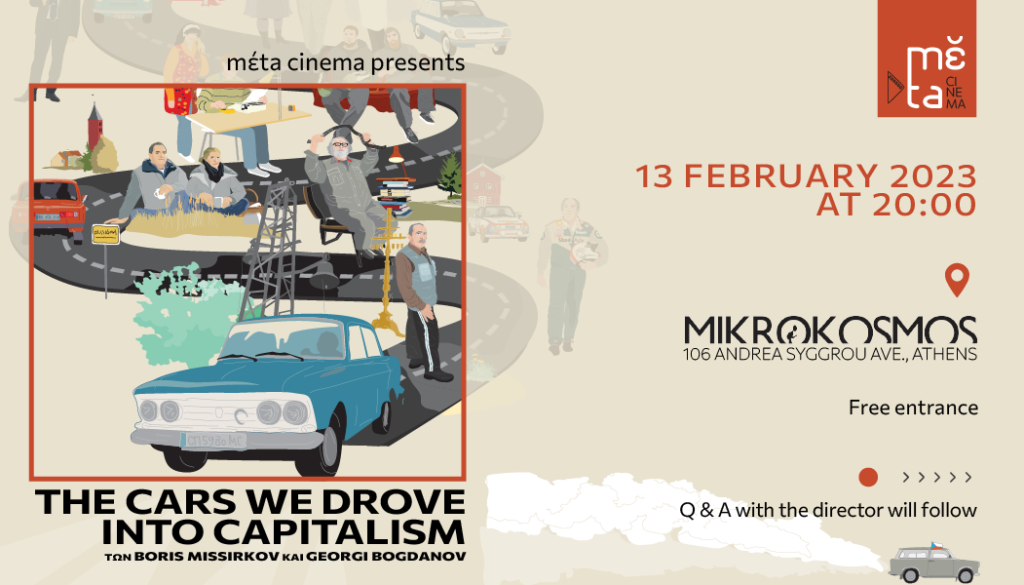 Free entry | With Greek subtitles
With the kind contribution of Greek and foreign creators, who, quite often, work in stifling conditions, mέta proposes to a wider public significant, recent film productions, which visualise but also critically problematise various aspects of the multi-faceted crisis surrounding us, as well as pinpoint emancipatory alternatives. For, quite often, optical language proves to be much more eloquent than numerous written pages, in the depiction of societal reality – at times, riveting.
mέta presents for a special screening in Greece the film, "The Cars We Drove Into Capitalism" by Boris Missirkov and Georgi Bogdanov.
During the Cold War, almost every family in the Eastern Bloc treasured and impeccably maintained the car they had waited so long for. This film looks at the fascinating history of socialist automobiles based on select accounts which portray the events and hardships of the time with a touch of humour. The automobile was also seen as a means to an end against the imperialist class enemy. For most communist countries, the car was an instrument of propaganda, used to symbolise technological progress and the equality, if not the superiority of their system. Even Western families were known to drive a Lada, Wartburg, Moskvitch, Trabant, Skoda or Zaz.
We meet a young woman who was inspired by pin-up models, a couple who drove to freedom in West Germany but had to abandon their beloved car on the last leg of their journey, a former racing champion and automobile fanatic who turned his old banger into a luxury vehicle, and many more. A cinematic journey that focuses attention on its heroes – both man and machine.
The screening will be followed by a discussion with the director and the film's contributors.
---
Feature Documentary / Human Interest
Film by Boris Missirkov and Georgi Bogdanov
Length 93'/52' HD
Co-Production AGITPROP, Saxonia Entertainment, Danish Documentary Production, Hulahop and Endorfilm with MDR/ARTE, in association with DR and YLE, with the support of Creative Europe MEDIA, Danish Film Institute, Croatian Audiovisual Centre, Czech Film Fund, Bulgarian National Film Center
Original Title The Cars We Drove Into Capitalism
Year 2021
Cinema Mikrokosmos Address: Leof. Andrea Syggrou 106, Athens 117 41
GO BACK