Initiatives that highlight mέta's agenda and engage the public either through established forms of public debate or artistic activities

Photography exhibition "Inside the Image" | opening on Thursday, April 6 (19:00) at 1927 art space
April 6
//
19:00
–
22:00
EEST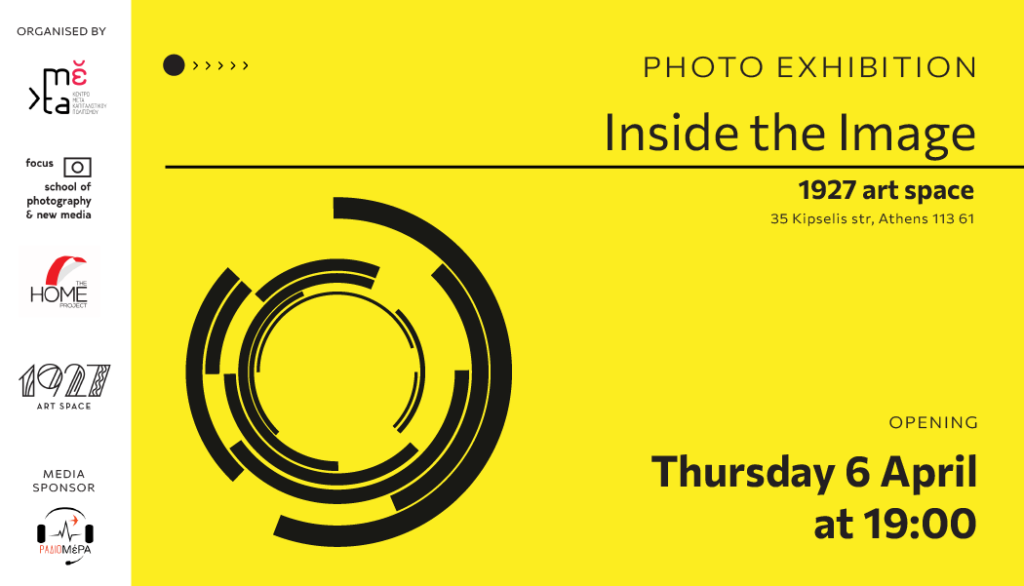 mέta | Centre for Postcapitalist Civilisation, the Focus School of Photography, and the non-governmental organization The HOME Project, which was created to provide shelter and a holistic framework of child protection services to unaccompanied refugee children who arrive in Greece alone, are pleased to invite you to the photography exhibition "Inside the Image", which opens on Thursday, April 6 (19:00) at 1927 art space (35 Kypselis Street, Athens 113 61) and will last until the 10th of April.
The exhibition presents the works resulting from the photography workshop with unaccompanied refugee minors as part of the three co-organizers' partnership under the title "3X3".
Based on the triptych "art-training-integration", mέta, Focus and The HOME Project collaborated and brought together teachers, photography students, and unaccompanied children, in a process of mutual enrichment in professional or pre-professional skills, but also of refinement of empathy and intercultural perspective.
Particular emphasis was placed on the appropriate preparation, training, and support from The HOME Project's Child Protection Unit to the participating students and photography teachers before and during the implementation of the project.
For mέta, its involvement in this partnership is not only a gesture of moral and material support for the valuable work of The HOME Project but also an act of empowerment of the children in their social integration efforts.
As the head of the workshop Pavlos Fisakis notes:
"This is a workshop that comments on the medium of photography itself. The authors are part of photography, they are both inside and outside the photographic act itself.
The group meetings were held at the children's home in Kypseli and the confidence of the photographic team was built with a lot of effort as the unaccompanied minors who participated spoke many different languages (Greek, English, Arabic, and Farsi).
The overarching goal of the workshop is to communicate and convey the children's messages through the photographic process, to emphasise the importance of collaboration through group projects, and to explore the critical issue of personal identity."
The WORKSHOP took place from December 2022 to March 2023
Coordinator: Pavlos Fisakis | Assistant Coordinator: Ariana Darvis-Tabar
Opening
Thursday 6 April, 19:00
Exhibition hours
– Thursday 6 April, 19:00 Opening
– Friday 7 April, 18:00 – 22:00
– Saturday 8 April, 12:00 – 15:00 and 18:00 – 20:00
– Sunday 9 April, 12:00 – 16:00
– Monday 10 April, 18:00 – 22:00
Address:
1927 art space (35 Kypselis Street, Athens 113 61) 1st floor
Information about the co-organisers
mέta | Center for Post-Capitalist Civilisation (https://metacpc.org/en/)
mέta is an international research and cultural organisation, associated with the parliamentary party MeRA25, the European movement DiEM25 and Progressive International. Founded as a civil non-profit company in 2020, it aims to map eutopic alternatives to the post-capitalist condition we have entered, through academic and artistic actions related to the political, social, economic, ecological, cultural, and civilisational challenges of the times.
Focus, School of Photography & Video (https://www.focus.edu.gr)
The Focus School of Photography and Video was founded in 1985. The vision of the founders was to create a specialised and friendly environment, dedicated exclusively to photographic education, which would provide all the necessary skills to shape the artistic and professional identity of the prospective photographer.
In a modern space in Zografou, with fully equipped studios and classrooms, Focus now offers students the opportunity to develop their creativity in photography and video, with equal emphasis on learning new technologies.
Focus is constantly broadening its horizons and since 2010 has initiated a series of collaborations in educational programs and exhibitions with important cultural institutions and foundations such as the EMST (National Museum of Contemporary Art, Αthens), the Michael Cacoyannis Foundation and the National Opera House.
The HOME Project (www.homeproject.org)
The HOME Project is a non-profit organisation created to provide support, protection, education, and social integration services to refugee children who arrive in Greece on their own. In 6 years, we have established and run 13 shelters with a capacity of 240 children, where we provide a holistic framework of child protection services through an individualised psycho-educational plan for each child, including mental health services, education, and pedagogical and social support aimed at social integration. So far, we have supported more than 1,000 children and have provided 170 jobs.
1927 art space (www.1927online.art.blog)
The independent art space 1927 was founded by Aktina Stathakis and Jerome Simeon. It has been operating in Kypseli since 2019, with the goal of promoting artistic research and international exchanges between independent artists. In its programming, it seeks to engage with social and political reality and give space to stories often marginalised by mainstream narratives.
GO BACK