Initiatives that highlight mέta's agenda and engage the public either through established forms of public debate or artistic activities

meta-cinema: premiere 15/3/22, 20:00 pm at Mikrokosmos, Oleanders a film by Paola Revenioti
Constantly pursuing the dialogue between art and political endeavour, the Centre for Postcapitalist Civilisation (mέta) proceeds with a series of films regularly screened in the multi-space facility of Mikrokosmos, literally bringing in the centre of our attention a genre connected per se to this pursuit: cinema.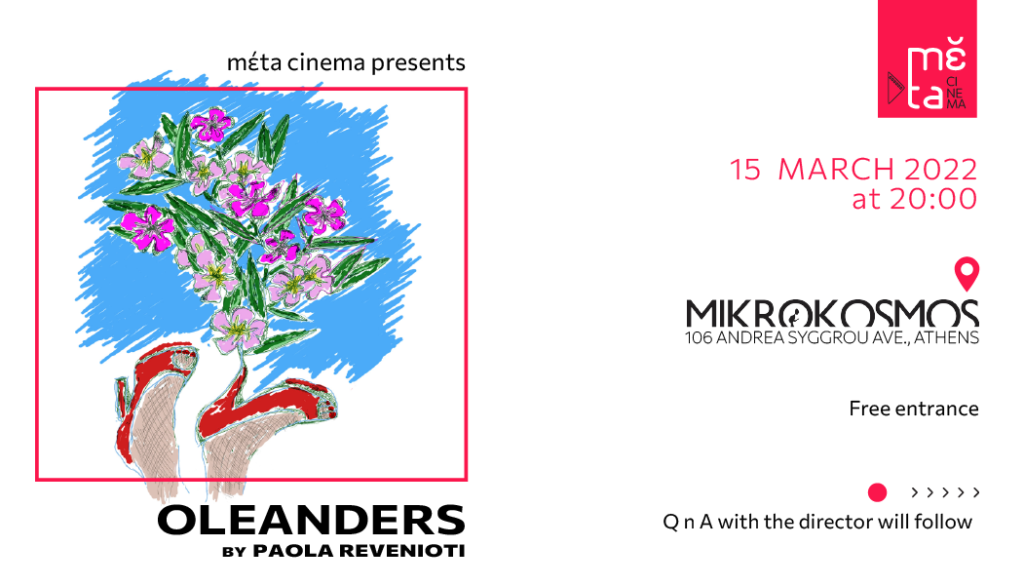 With the kind contribution of Greek and foreign creators, who, quite often, work in stifling conditions, mέta proposes to a wider public significant, recent film productions, which visualise but also critically problematise various aspects of the multi-faceted crisis surrounding us, as well as pinpoint emancipatory alternatives. For, quite often, optical language proves to be much more eloquent than numerous written pages, in the depiction of societal reality – at times, riveting.
Paola Revenioti's "Oleanders" is a nightly tour, guided by Betty Vakalidou, Eva Koumarianou, and the filmmaker, through the districts of Athens where trans women's sex work used to flourish. Their nostalgic, often humorous and at times rough narrative witnesses the sexual codes, the struggle for self-identification, and the resistance towards exclusion that marked trans people's lives in Greece from the '70s to the '90s.

Direction: Paola Revenioti/Featuring: Betty Bakalidou, Eua Koumarianou, Paola Revenioti/Co-directed and Cinematography: Elpiniki Voutsa Rentzepopoulou, Alexandros Synodinos, Vangelis Tsakas, Yorgos Gkonos, Alexandros Kotsenos/Editing: Christina Lagouri, Alexandros Synodinos /Music: Opera di Bestia /Research: Eliza Triantafyllou, Danai Maragoudaki/Production supervisor: Margarita Κ. Chomatianou/DCP: L' Azur De La Mer I.K.E., Shooting Fish ® Productions/Contact: Vasilis Thanasis/Translation: Renée Molho/Production: © Paola Team Documentaries, 2020
mέta is a civil-non-profit research and cultural institution, related to the political party MeRA25, the European movement DiEM25, and Progressive International. It was established in 2020, aiming to explore eutopic alternatives to the postcapitalist era in which we are already living, through academic and cultural actions regarding the political, social, economic, ecological, cultural, and civilisational challenges of our times.
Cine Mikrokosmos (member of Europa Cinemas) was born in the fall of 2004, on Syngrou Avenue, opposite ex-Fix Industry, equipped with state – of the – art technology and with a unique architectural approach. Having hosted numerous festivals and tributes, without ever standing off from first-rate promotions, committed to cinephile choices, and particularly hospitable to independent Greek productions, Mikrokosmos has created its own audience and is chosen for its ideal show conditions, its careful selections, and, occasionally, for its autonomous bar, which operates in the foyer at affordable prices and cinematic ambiance.

Paola Revenioti, is a Greek trans woman, filmmaker, publisher, radio producer, activist and pioneer of the Greek LGBT movement. From a young age and due to the social exclusion of trans people from work, she made a living as a sex worker.
meta team
GO BACK