Initiatives that highlight mέta's agenda and engage the public either through established forms of public debate or artistic activities

Ithaca – A Fight to Free Julian Assange
March 9
//
19:00
–
22:00
EET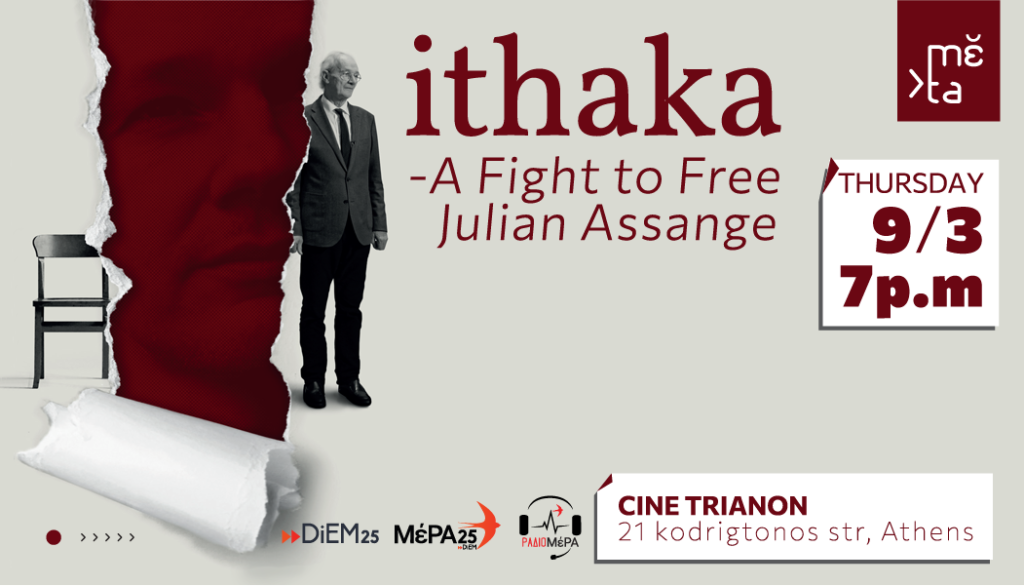 Screening at "Trianon" on Thursday 9 March (19.00) in the presence of Stella Morris-Assange
Admission is free
The most important political prisoner of our time remains for the fourth year in the maximum security prison of Belmarsh in Britain, awaiting extradition to the USA where he is threatened with a 175-year prison sentence. The 'crime' for which Julian Assange is suffering this slow death sentence was his courageous contribution to exposing the war crimes and government corruption of the powerful of the earth. The defence of the founder of Wikileaks is currently the leading battle for freedom of speech internationally.

mέta | Centre for Post-Capitalist Civilisation does not want to be absent from this battle. Besides, this is given immediate political relevance by the repeatedly documented erosion of freedom and credibility of information in our country as well as by the undemocratic aberrations like the recent wiretapping scandal.

It is for this reason that, as part of mέta-cinema, the feature-long documentary "Ithaka – A Fight to Free Julian Assange" (2021) by Ben Lawrence will be screened next Thursday, March 9 at 7 p.m. at the "Trianon" cinema (21 Kodrigtonos Street, Athens 104 34).

And it is a great pleasure and honour for us to welcome the wife of the Wikileaks founder and pioneer of the fight for his release, Stella Morris-Assange, who will address the audience at the screening of the film, together with the secretary of MeRA25 and co-founder of DiEM25 and the Progressive International, Yanis Varoufakis.

In addition, there will be an artistic intervention at the cinema hall by Miltos Manetas, who has been working on a series of portraits of Julian Assange in recent years, thus participating in the campaign for his release.

In the documentary "Ithaka", which was filmed over two years and incorporates archival and previously unknown material, Ben Lawrence (creator of Ghosthunter, Hearts and Bones, among others) focuses on the "Odyssey" of Assange's father, John Shipton as he attempts to save his son, travelling across Europe with Stella Morris-Assange to activate solidarity networks, pressure political leaders and communicate the case.

Ithaka has already been screened or awarded at the Sydney Film Festival in Australia in 2021, Sheffield Doc Fest in the UK in 2022, Doc Edge in New Zealand in 2022, Human Rights Film Festival Berlin in Germany in 2022, DOC NYC in the USA in 2022 and will be screened at the Thessaloniki International Documentary Festival on Wednesday 8 March 2023.

The film has a running time of 110 minutes and will be subtitled in Greek. Admission is free.
GO BACK