Initiatives that highlight mέta's agenda and engage the public either through established forms of public debate or artistic activities

20 Years of Euro: An Assessment in the Shadow of a European War
16/04/2022
//
14:00
–
20:00
EEST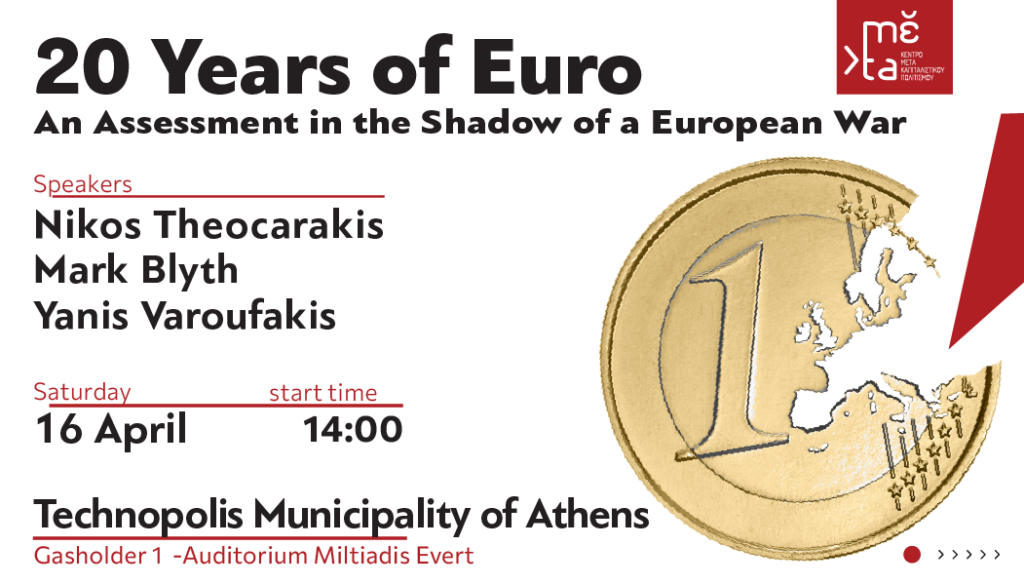 Admission Free.
16-04-2022, 14:00 Athens time
Reservations at: bit.ly/20xroniae or by phone at 210.8847571 (10:00 to 16:00 Monday to Friday).
The introduction of the euro (exactly twenty years ago as Greece's currency) was presented as a big promise of economic convergence and well-being, in the spirit of the even bigger promise of permanent peace in the European continent. However, as is all too evident by now, the euro was instrumental in dividing rather than uniting Europe, and it put in action centrifugal forces that undermined unification – a prerequisite for a common European foreign policy and defense policy. Today, in the context of the biggest military conflict on European soil since decades, a critical re-evaluation of the twenty-year-long history of the common currency is more urgent than ever.
In the colloquium organised by mέta on the 16th of April at the Athens' Technopolis' we analyse the introduction of the common currency, its impact during the last two decades, its geopolitical, ideological, and cultural dimensions while contemplating alternatives in the era of digital money.

Participants:

Mark Blyth is the William R. Rhodes Professor of International Economics and Professor of International and Public Affairs at Brown University, author of Austerity: The History of a Dangerous Idea (Oxford University Press, 2013), and co-editor of The Future of the Euro (Oxford University Press 2015).

Nicholas Theocarakis is a Professor of Political Economy and History of Economic Thought at the University of Athens. He has co-authored Modern Political Economics: Making sense of the post-2008 world with Yanis Varoufakis and Joseph Halevi.

Yanis Varoufakis MP is a Professor of Economic Theory at the University of Athens, Secretary of Greece's parliamentary party MeRA25, and co-founder of DiEM25.
PROGRAMME
14.00-14.15 – Welcome and introductions
14.15 -15.30 – Nicholas Theocarakis: The history and political economy of the common currency that weakened Europe | Q&A with the audience
15.30-15.40 BREAK
15.40-16.00 Stephanie Kelton: The euro from the perspective of Modern Monetary Theory – via videolink
16.00-17.30 – Mark Blyth: The euro – an assessment in the midst of a European war| Q&A with Yanis Varoufakis and the audience
17.30-19.00 – Yanis Varoufakis: Alternatives in the age of digital money | Q&A with the audience
GO BACK