Initiatives that highlight mέta's agenda and engage the public either through established forms of public debate or artistic activities

In the Mirror of Palestine
28/11/2021
//
19:00
–
29/11/2021
//
22:00
EET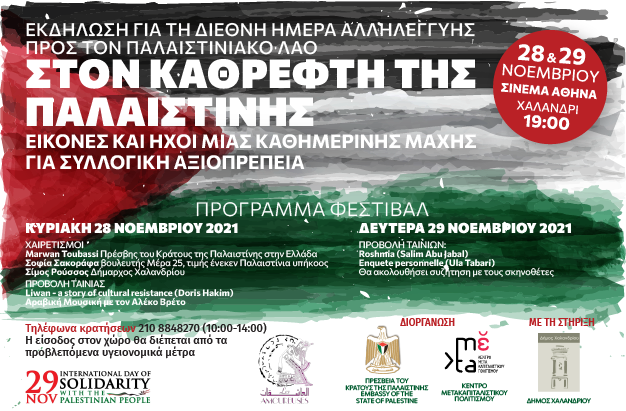 In honour of the International Day of Solidarity with the Palestinian People, the Centre for Post Capitalist Civilization (mέta) and the Ambassador of the State of Palestine in Athens are co-organizing, with the support of the Municipality of Chalandri, a two-day event on Sunday 28 and Monday 29 of November 2021 at the cinema "Athina"(Solomou 18, Chalandri) with title:
In the Mirror of Palestine: Images and Sounds of a Daily Struggle for Collective Dignity
A preliminary, yet necessary, contribution to the effort to highlight, by using the language of art as well as political argumentation, the quest for justice for the Palestinian people and to condemn all policies of occupation, settler-colonialism and exclusion.
On Sunday, the first day of the event, there will be official greetings from Marwan Toubasi (Ambassador of the State of Palestine), Sofia Sakorafa (Deputy Speaker of the Greek Parliament, MP Mera25, honorary Palestinian citizen), and Simos Roussos (Mayor of Chalandri), followed by a screening of the short documentary by the Greek-Palestinian artist Doris Hakim: "Liwan: a story of cultural resistance" and a small concert with Alekos Bretos on the oud.
The next day, November 29, film screening of "Rosh mia" by Salim Abu Jabal, and Enquete personnelle by Ula Tabari, followed by a discussion with the filmmakers.
The Schedule of the events for both days is at 7 p.m. Free entrance.
All prescribed safety measures will be observed.
Seats must be pre-booked at +30210.8848270 – +30210.8847571.
A few words about the films:
Liwan – a story of cultural resistance, 2021, is a documentary of Doris Hakim about a cultural cafe that was founded by three Palestinians living in Nazareth το criticize the political situation through cultural resistance. Doris Hakim is a Palestinian Greek visual artist and performer. She studied at Athens School of Fine Arts and has a Masters's degree in Fine Arts from the University of Seville.
Roshmia (2015) του Salim Abu Jabal is a feature-length documentary by Salim Abu Jabal. A story of an elderly Palestinian refugee couple in a final standoff with the Israeli authorities to maintain their lifestyle in Roshmia, the last natural valley in Haifa. Salim Abu Jabal Studied Theatre and Arabic Literature at the University of Haifa and later Scriptwriting. He worked as a journalist, a film critic, and a producer also for programs for TV. He is most known for his award-winning documentary film 'Roshmia' which received 13 awards from renowned Arab and international festivals. Ηe founded the traveling film festival "Films From Behind The Wall" in 2005 and Ramallah Cinema Club in 2013. Αlso, he was the programmer of Palestine Cinema Days (2016, 2017) and the programmer of Haifa Independent Film Festival (2018). 'Roshmia' received 13 awards from renowned Arab and international festivals.
Enquete personnelle, 2002: a documentary by Ula Tabari that's about Palestinian identity and the Israeli occupation; on how to live as a Palestinian in the Israeli Jewish State. Ula Tabari was born in Nazareth and lives in Paris. She studied Theatre and Visual Arts. In 2015 she founded "Al-Ashiqat" ("Les Amoureuses") for alternative production services.
mέta
Κινηματογράφος «Αθηνά»
Σολωμού 18
Χαλάνδρι
,
15233
Ελλάδα
GO BACK