Initiatives that highlight mέta's agenda and engage the public either through established forms of public debate or artistic activities

IN THE MIRROR OF PALESTINE
29/11/2022
//
19:00
–
22:00
EET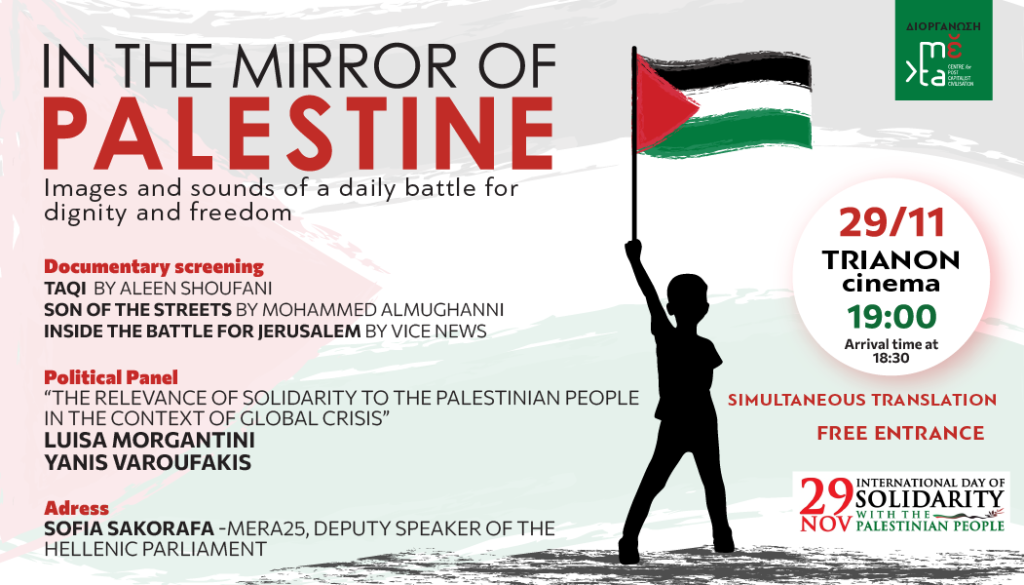 On Tuesday 29 November 29, on the International Day of Solidarity with the Palestinian People, mέta | the Centre for Postcapitalist Civilisation organises at "Trianon" cinema (Kodrigktonos 21, Athens) a one-day film festival titled "In the Mirror of Palestine: Images and sounds of a quotidian struggle for dignity and freedom".
This is the second year in a row that the mέta, guided by the artistic work of Palestinian filmmakers, has honoured the struggles of the Palestinian people, which it considers to be central to any effort to shape a more just society in our neighbourhood and internationally, despite what the dominant discourse claims.
Aleen Shoufani's 'Taqi' (2021, 35'), Mohammed Almughanni's 'Son of the Streets' (2020, 34′) and Vice News' 'Inside the Battle for Jesusalem' (2021, 20') will be screened. The filmmakers will participate with video messages, while Sofia Sakorafa, MP with MeRA25, Deputy Speaker of the Greek Parliament and honorary Palestinian citizen will address the audience and the chair of mέta's Steering Committee Danai Stratou.
A discussion will follow on "The importance of solidarity with the Palestinian people in the context of the global crisis" with Italian activist Luisa Morgantini and Yanis Varoufakis MP (secretary of MeRA25, co-founder of DiEM25) as speakers.
Luisa Morgantini was for two terms (1999-2009) a member of the European Parliament for the Italian party Rifondazione Communista. She is a figure with decades of struggles in the pacifist, women's and trade union movements, as well as solidarity actions around the world, particularly in Palestine and the Mediterranean. She leads the Italian section of the anti-war organisation Women in Black.
Greek subtitling of the films and live translation of the debate will be provided.
Free admission. Doors open: 18.30
The films
Taqi (2021, 35′) by Aleen Shoufani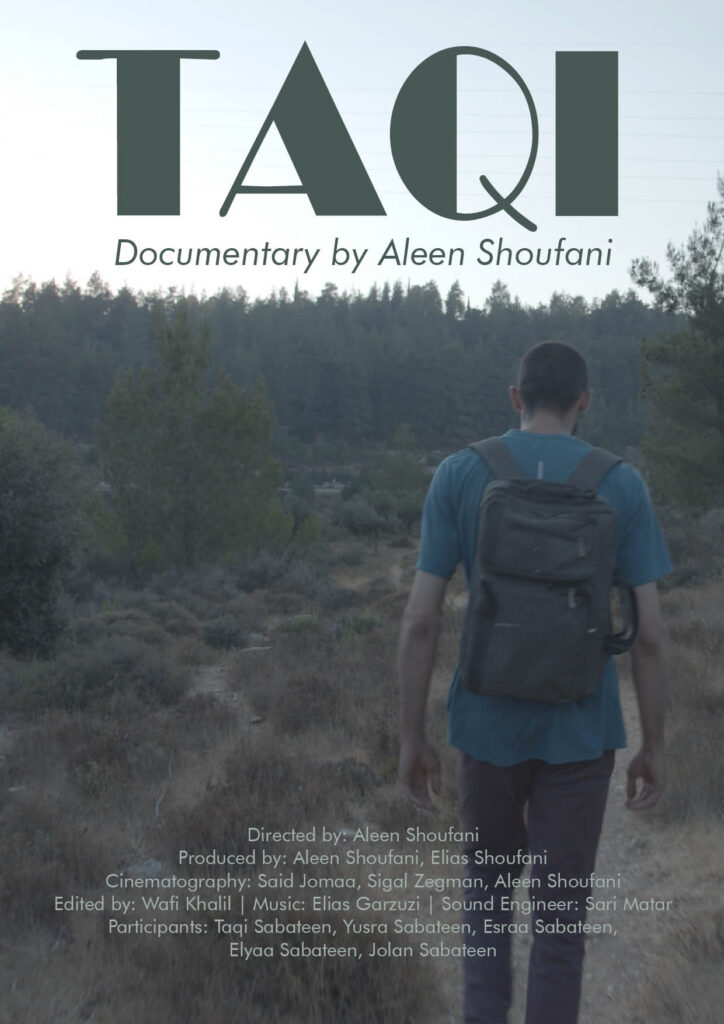 The film deals with the story of Taqi Sabateen, a well-known Palestinian graffiti artist from the West Bank of Jordan, who expresses his frustration with the occupation, checkpoints, the separation wall, and uses his art and personal life stories as a tool of resistance.
Aleen Shoufani is a filmmaker born in Haifa. She studied film and television at Tel Aviv University (2019-2020). She worked as a nurse. She participated in several productions as a student. Her first film, the documentary short "Taqi", was made during her university film studies at her own expense and was awarded at the Stockholm Film Festival, Boden International Film Festival, Vienna Films Awards, Prisma Film in Rome, Tagore International Film Festival and Naples Film Awards.
Cast: Taqi Sabateen, Yusra Sabateen, Israa Sabateen, Elyaa Sabateen, Jolan Sabateen.
Directed by Aleen Shoufani
Producers: Aleen Shoufani, Elias Shoufani
Cinematography: Said Jomaa, Sigal Zegman, Aleen Shoufani
Editing: Wafi Khalil
Recording: Aleen Shoufani
Sound designer: Sari Matar
Music: Elias Garzuzi
"Son Of The Streets" (2020, 34′) by Mohammed Almughanni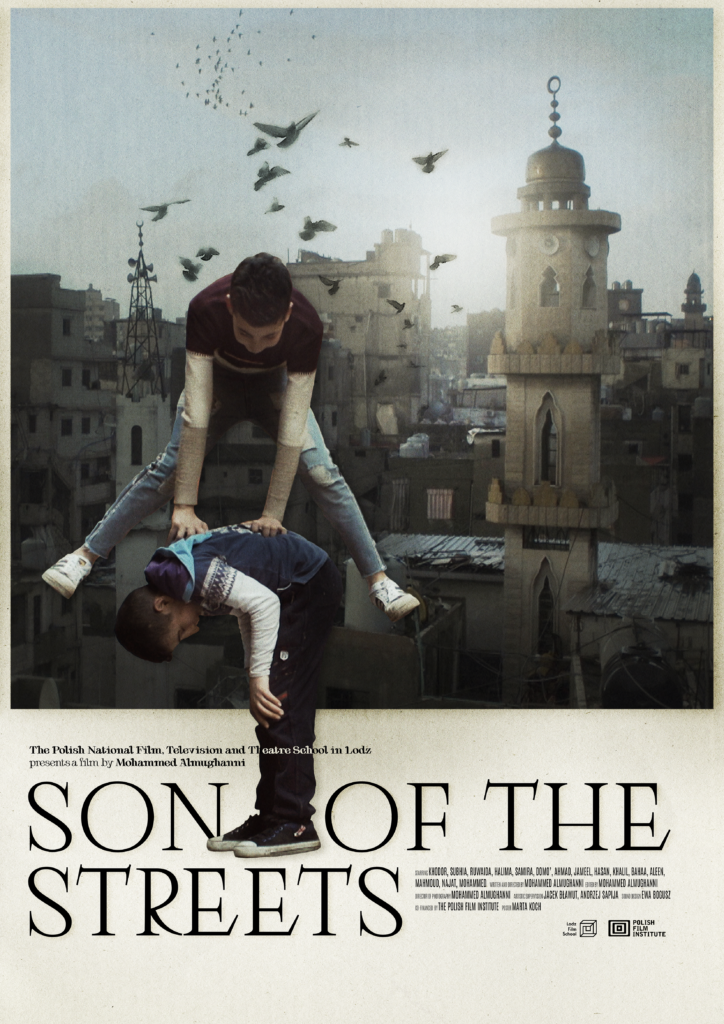 Khodor is a 13-year-old boy whose family is trying to issue him with an identity document that proves his existence and entitles him to education, healthcare and movement outside the Palestinian refugee camp of Shatila in Beirut, Lebanon. During the process, many of the family's old secrets are revealed.
Director, writer and filmmaker Mohammed Almughanni was born in 1994 in Gaza. He earned his bachelor's and master's degrees in film directing at the Łódź Film School in Poland, where he produced Son of the Streets. In recent years, he has shot films in various parts of the world, including Cuba, Palestine, Denmark, China, Jordan, Lebanon, Poland and Germany. He is a documentary and narrative filmmaker, including "Blacklisted" (2021), "Son Of The Streets" (2020), "Falafala" (2019), "Operation" (2018), "Where's the Donkey" (2018), "Shujayya" (2015), and "Halawan" (2012). His films have been selected and awarded at numerous film festivals around the world.
Written, directed, photographed and edited by Mohammed Almughanni.
"Son Of The Streets" was awarded at the Jihlava Film Festival in Prague, Sehsüchte International Student Film Festival in Berlin, Popoli e Religioni Terni Film Festival in Italy, Festival Ciné Palestine in Paris, Long Story Short Film Festival in Wroclaw, Panorama des cinémas du Maghreb et du Moyen-Orient in Paris and Liberation DocFest Bangladesh in Dhaka.
"Inside the Battle for Jerusalem" (2021, 20′) by Vice News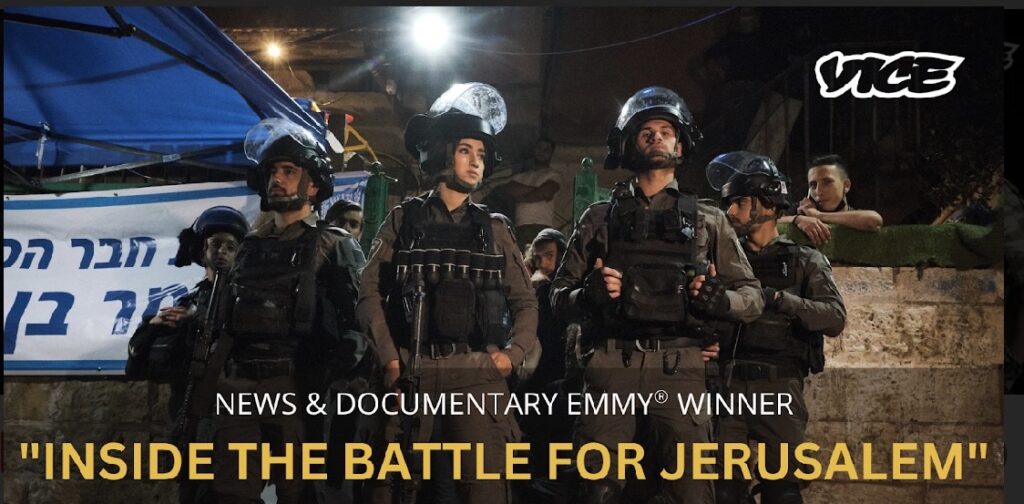 Documentary on the ground by Palestinian photographer Ayman Abu Ramuz and South African photographer Dan Bitman for Vice News in occupied East Jerusalem.
Vice follows Palestinians in danger of being evicted from their homes in the Sheikh Jarrah neighborhood in order to give them to settlers. Correspondent Hind Hassan talks to residents who are resorting to legal action and protesting while facing attacks by Israeli occupation forces, arrests, house searches, beatings and attempts to occupy by settlers.
Inside the Battle for Jerusalem won two EMMY awards (Best Cinematography and Best News Coverage).
GO BACK