Initiatives that highlight mέta's agenda and engage the public either through established forms of public debate or artistic activities

"WAteRdrops", will be shown by mέta, in a special screening at Mikrokosmos cinema, on April 26th, 2023 | Arrival time 19:30.
April 26
//
20:00
–
22:00
EEST
Constantly pursuing the dialogue between art and political endeavour, mέta | Centre for Postcapitalist Civilisation proceeds with a series of films regularly screened in the multi-space facility of Mikrokosmos, literally bringing in the centre of our attention a genre connected per se to this pursuit: cinema.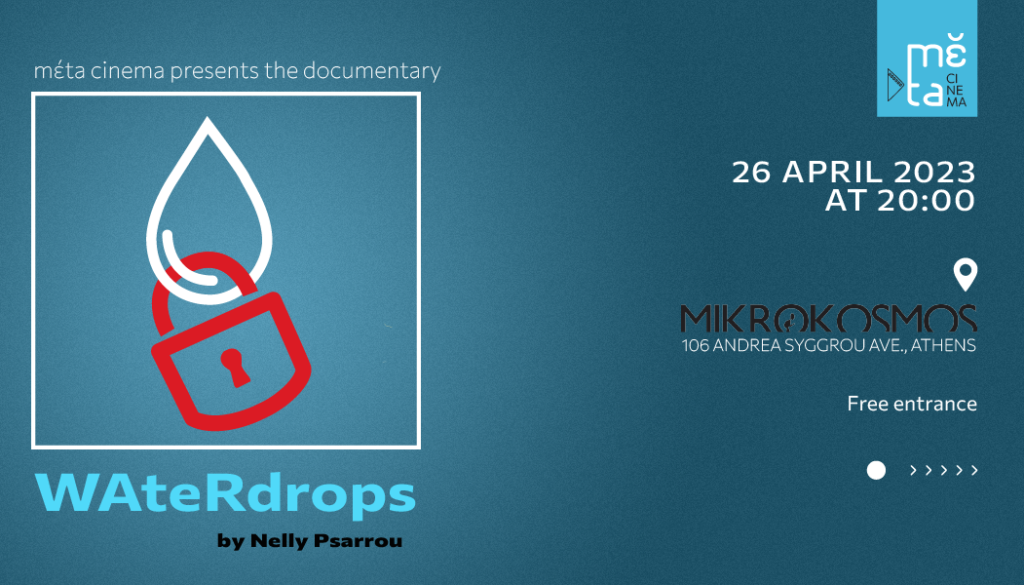 Free entrance | with English subtitles
at Mikrokosmos cinema (Leof. Andrea Syggrou 106, Athens 117 41)
April 26 2023 (arrival time 19:30)

With the kind contribution of Greek and foreign creators, who, quite often, work in stifling conditions, mέta proposes to a wider public significant, recent film productions, which visualise but also critically problematise various aspects of the multi-faceted crisis surrounding us, as well as pinpoint emancipatory alternatives. For, quite often, optical language proves to be much more eloquent than numerous written pages, in the depiction of societal reality – at times, riveting.
mέta presents Nelly Psarrou's documentary film "Waterdrops"

Water privatisation is the most visible and imminent danger our lives face, in an era where all common goods become targets of private speculation. The direct sale of sources and water management networks is the case of obvious privatisation, where one could imagine the consequences. Of course, there's also the less obvious case of indirect water privatisation. It is a process that started decades ago and its consequences are so devastating for our health that it endangers our survival. These, both obvious and non-obvious sides of water privatisation will be the central theme of our new documentary.

The title of this documentary could be TOMORROW'S WAR, TODAY. We have five destinations in Greece: Thessaloniki, Apopigadi, Eastern Chalkidiki, Asopos river and Volos. The war on water is not a future probability, but it's a reality familiar to some of our fellow citizens for many years now.

The screening will be followed by a discussion.

Research, script, direction, production: Nelly Psarrou
Director of photography: Stella Melingkounaki
Editing: Yannis Fragoulakis
Communication, production assistant : Pantelis Panteloglou
Music: Christos Garbidakis – Dergar
Teasers: Michalis Alexakis
Poster design: Aggelos Pouliasis
GO BACK