Against the dystopia of the restructuring of labour relations
15/06/2021
//
19:30
–
21:30
EEST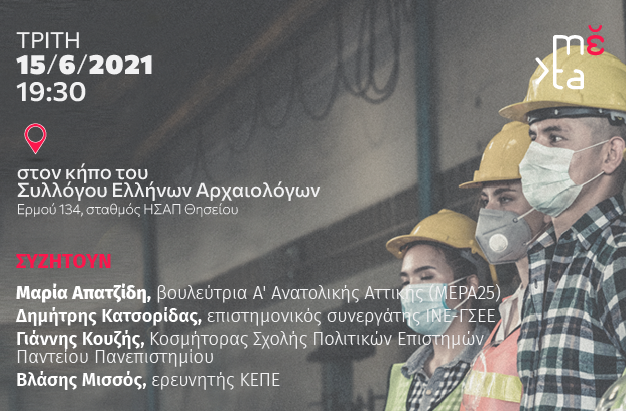 The Centre for Post-Capitalist Civilisation (meta) is pleased to invite you to its first open-air event on Tuesday, June 15, at 7.30 pm in the garden of the Association of Greek Archaeologists (134 Ermou, ISAP station Thissio) with the theme:
Against the dystopia of the restructuring of labour relations
Panel:
Maria Apatzidi, Member of Parliament for Eastern Attica (MERA25)
Dimitris Katsoridas, scientific collaborator INE-GSEE
Giannis Kouzis, Dean of the School of Political Science of Panteion University
Vlasis Missos, KEPE researcher
Coordinated by Costas Raptis, mέta's Press Officer
What do the new labour relations testify to the transformation of capitalism?
What "development model" for the country and its place in the international division of labour is presupposed in the Hatzidakis bill.
Which roads can the reconstruction of the labour movement go through, and through which forms?
(Admission is free.)
Κήπος του Συλλόγου Ελλήνων Αρχαιολόγων (Ερμού 134, σταθμός ΗΣΑΠ Θησείου)
Ερμού 134
Αθήνα
,
105 53
Ελλάδα
GO BACK